RONDO TRUCK & TRAILER SALES Established in 2001, for over 15 years we have built our reputation upon a foundation of a qualified and experienced staff. The RONDO TRUCK & TRAILER Team is eager to assist and serve you in all of your Trailers, Truck beds, Snow Plows, Salt Spreaders, Trailer Parts & Accessories, and Service needs.
We've love to hear from you -
or give us a call at 815-899-4340.
We're Always Behind You!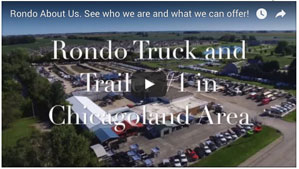 Trailer Tire Sale!
Truckload Pricing!
Take off 15" Bias Ply Tires & Wheel Assemblies - Limited to in-stock quantities.
ST205/75D15 LRC Bias on steel 5 on 4.5" rims - set of 4 for $220*
ST205/75R15 LRC Contender Radial on steel 5 on 4.5" rims - set of 4 for $280*
ST225/75R15 LRE 10 ply Radial on steel 6 on 5.5" rims - set of 4 for $380*
ST235/80R16 LRE Contender Radial on steel 8 on 6.5" rims - set of 4 for $395*
ST235/80R16 LRE Provider Radial on Silver Dually steel 8 on 6.5" rims - set of 8 for $900*
More sizes and rims to choose from including but not limited to: Aluminum wheels, 17.5" tires & wheels, 14 ply LRG 16" tires
*Plus taxes, tire user fees, and disposal (if applicable)